Companies in 13 of the 16 Group of 20 nations examined in the report are due to decarbonize by an average of 2.9% annually, a slowdown from 3.2% per year since the Paris Agreement. Meanwhile governments in those countries are projected to reduce national greenhouse gas emissions by an average of 4.5% each year between 2022 and 2030, a faster rate of reduction than the 0.8% average achieved annually following the Paris Agreement.
The projected slowdown by companies in reducing emissions suggests they will need increased supply of clean energy as well as policies designed to hasten decarbonization if they are to up their climate ambition, according to the report, which arrives as delegates from nearly 200 countries prepare to gather in Dubai for the COP28 climate conference.
The summit is expected to stress that while climate action by countries and the private sector is proceeding, more ambition on all fronts would be needed to stave off the worst effects of a warming climate.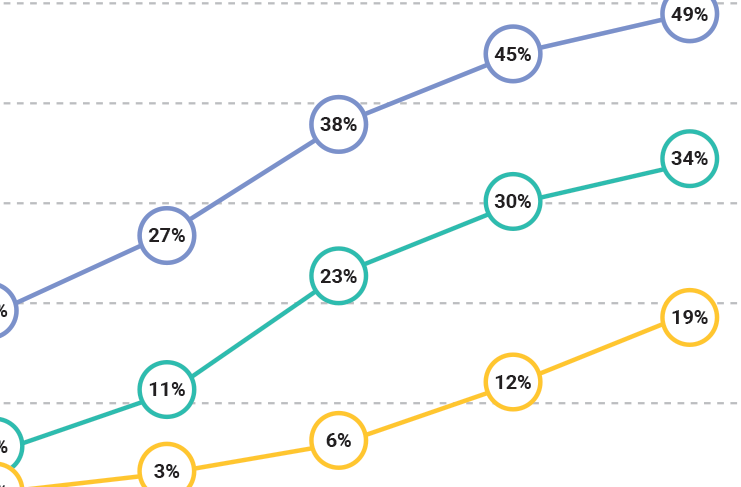 "Progress from listed companies in the remainder of the decade is set to slow now that companies are cutting the emissions they can cut most readily."
Linda-Eling Lee
Founding Director, MSCI Sustainability Institute
"Following a strong start, progress from listed companies in the remainder of the decade is set to slow now that companies are cutting the emissions they can cut most readily," says Linda-Eling Lee, founding director and head of the MSCI Sustainability Institute, which published the analysis. "That raises the importance for governments of accelerating climate action through policy that can boost supply of clean energy and development of transition technologies."
With COP28 set to conclude the first global assessment of country-specific climate ambitions, this edition of the MSCI Net-Zero Tracker illustrates how investors and policymakers can estimate a range of future warming outcomes by evaluating country carbon budgets and analysis of future emissions. The findings suggest a need to raise global climate ambition and achieve technological breakthroughs if society is to stave off the worst impacts of global warming.
Below are more key findings from the report:
Still peaking: The world's listed companies are likely to put 12.4 gigatons of GHG emissions into the atmosphere this year, up 11% from 2022, outpacing a 0.3% rise in emissions globally.
A key limit looms: Companies' current trajectory puts them on track to push average global temperatures past 1.5°C above preindustrial levels (above which risks of warming worsen) by April 2026, three months sooner than projected in July.
Companies lessen their climate impact: Projected emissions from listed companies are on track to warm the planet 2.5°C above preindustrial levels, a half degree less than two years ago, based on analysis of their future emissions pathways and climate commitments using MSCI's Implied Temperature Rise model.
Progress but: Only 22% of listed companies align with a 1.5°C pathway. More than half (55%) of companies align with global warming equal to or below 2°C, the high end of the Paris Agreement's uppermost temperature threshold.
Targets in focus: More than one-third (34%) of listed companies have set a climate target that aspires to reach net-zero, up 50% from two years earlier. Close to one-fifth (19%) of companies have published a science-based net-zero target that covers all their financially relevant emissions, more than triple the share of such targets over the same period.
"It is apparent from this analysis that companies have taken commendable steps towards addressing climate change," James Grabert, director of mitigation at the United Nations Framework Convention on Climate Change, writes in a foreword to the report. "Yet, it is equally clear that we have not yet mustered the level of ambition and action necessary to confront the magnitude of the crisis before us."